Sophia Esteed is Fayt's childhood friend and perhaps even his sweetheart. Her father is a close friend and research partner of Fayt's parents and, as a result, the two families have spent a lot of time together. Sophia has an ongoing interest in the history of Symbology, so it shouldn't come as a surprise to anyone to learn how talented she is at it.
—Official Strategy Guide
Sophia Esteed (ソフィア・エスティード, Sofia Esutīdo?) is one of the main characters of Star Ocean: Till the End of Time. An Earthling born on the orbital colony Moonbase and who later moved to Earth, she is a childhood friend of Fayt Leingod. She also makes a playable appearance in Star Ocean: Anamnesis.
Story
Hyda IV
with Fayt. She escapes with Fayt, but they are soon split up by different
escape pods
. It is then discovered she was captured by the Vendeeni, being a key part in ultimately luring Fayt into the open. Fortunately, the Vendeeni attempt doesn't succeed, it being thwarted at the
Kirlsa Training Facility
. After being rescued she joins the party on their trip to
Moonbase
, where, Sophia learns that she, too, was experimented on by Dr. Leingod and
Dr. Esteed
as a child and given the power of
Connection
. Sophia uses this power on
Styx
to allow the party to enter the
4D Space
.

This article or section is a stub. You can help the Star Ocean Wiki by expanding it.
Profile
You just have to believe what you feel in your heart. Let's choose to believe.
—Sophia Esteed
She is a fairly odd girl, at least for the time and age she lives in (S.D. 772), for she enjoys cooking, cleaning, and basic things traditionally considered "feminine".
Because she is such close friends with Fayt and his parents, as well as her and Fayt's parents working together, she is considered a member of the family and refers to Fayt's father and mother as "Uncle Robert" and "Aunty Ryoko". It is of interest to note that in several official sources, she is hinted to be Fayt's potential 'sweetheart' and several private actions within the game reinforce said implications of underlying romance between the two, although oddly enough, their couple ending, in which they reunite with Ryoko Leingod and Sophia's parents, contains no such hints. Two noteworthy examples are presented on Hyda IV and in Castle Aquaria near the end of the journey.
Gameplay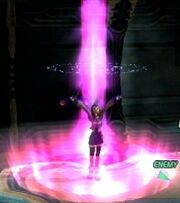 Sophia is the game's resident Symbologist and uses staves in battle. Her normal attacks at short range involve whacks and swats with her staff, while her long range attacks shoot balls of pink energy which damage enemy MP (her long range strong attack is especially effective for this). Sophia learns every symbol available to the party in the game and her Connection gene manifests in her most powerful skills as summoning symbols. Blood Scylla summons a demon that drains health and mana from enemies and bestows it on her. Gremlins summons a series of hamster-like creatures that swarm enemies and deal damage while interrupting their actions with multiple hits. Her most powerful symbol, Meteor Swarm, manifests differently than any other spell. Sophia dances on the spot, reciting a long incantation before finally facing the heavens and calling the attack. Many enormous, flaming meteors then rain down on the field for an extended period of time, dealing massive damage to enemies.
Because of her pure emphasis on casting, Sophia is essentially the same as Celine from Star Ocean: The Second Story. Being the team's quintessential caster means she has low attack, defense and HP in comparison to her sturdier allies, and she cannot withstand a lot of punishment from enemies. While she can use Aerial and Charge like everyone else can, she will never make the best use of them, though a staff designed around physical attack power through Item Creation can let Sophia work around her caster archetype if the player so desires.
Symbology
Her levels in Symbology are Major Healing, Major Destructive and Major Supportive.
| Skill | Acquired at Level | MP Cost | Fury | CP |
| --- | --- | --- | --- | --- |
| Healing | 3 | 20 | 20 | - |
| Antidote | 4 | 10 | 20 | - |
| Fire Bolt | 5 | 10 / 124 | 20/42 | 2 |
| Silence | 5 | 10 | 20 | - |
| Ice Needles | 10 | 10 / 124 | 20/42 | 2 |
| Acid Rain | 12 | 15 | 20 | - |
| Lightning Blast | 15 | 10 / 124 | 20/42 | 3 |
| Protection | 17 | 30 | 20 | - |
| Earth Glaive | 19 | 10 / 124 | 20/42 | 3 |
| Cure Condition | 20 | 15 | 20 | - |
| Power Up | 21 | 30 | 20 | - |
| Restoration | 22 | 60 MP | 60 | - |
| Efreet | 25 | 35 / 199 | 30/60 | 5 |
| Crush | 29 | 25 | 20 | - |
| Thunder Flare | 30 | 40 / 199 | 30/60 | 4 |
| Faerie Light | 33 | 40 | 20 | - |
| Deep Freeze | 35 | 80 / 250 | 30/60 | 6 |
| Reflection | 37 | 30 | 20 | - |
| Dark Sphere | 40 | 200 / 380 | 40/72 | - |
| Stone Rain | 45 | 80 / 250 | 40/72 | 5 |
| Gravitation | 47 | 30 | 20 | - |
| Explosion | 50 | 300 / 680 | 40/72 | 7 |
| Laser Beams | 54 | 150 / 300 | 40/72 | 7 |
| Angel Feather | 57 | 30 | 20 | - |
| Lightning Strike | 60 | 300 / 720 | 50/86 | 8 |
| Southern Cross | Found in Sphere 211 (106th level) | 120 | 30 | 6 |
| Blood Scylla | Found in Maze of Tribulations B1F | 300 | 40 | 7 |
| Gremlins | Found in Sphere 211 (209th level) | 50 MP | 30 | 6 |
| Meteor Swarm | Found in Sphere 211 (210th level) | | | 10 |
Star Ocean: Anamnesis
Sophia

Information
Staff - Gacha Permanent - ACE 5☆ to 6☆
Talents
Schoolgirl Drama II
INT +50% (Self)
Green-Eyed Monster II
Critical Rate +30% (All Caster)
Good Planner II
AP Consumption -20% (All Caster)
Self-Mastery
Reduce Symbology Cast Time by 30% (Self)
Rush Combo
Additional Effect
Power
Max Hit Count
Meteor Swarm (Fire Element)
INT +70% & AP Consumption -60% (Self 20 secs)
INT x 3,500%
9
Skills
AP Cost
Power
Max Hit Count
Plunging Fire Bolts (Fire Element)
20
INT x 200%
6
Stone Rain (Earth Element)
35
INT x 460%
5
Enhance
60
ATK +25% (Party, 20 seconds)
1
Violent Explosion (Fire Element)
45
INT x 770%
14
LB 10 Level 70 Stats
HP
12,285
ATK
1,563
INT
4,095
DEF
1,327
HIT
1,057
GRD
833
Summer Sophia

Information
Orb - Gacha Limited - ACE 5☆ to 6☆
Talents
Seaside Enchantress II
INT +20% & Recover allies AP when using Offensive Symbology (Self)
Making Waves II
AP Consumption -40% & INT Damage +30% when Skill Chain 3 or above (Self)
Cat Ball and Sandals II
ATK & INT Damage +20% (All Allies) & Nullify "Movement Speed Decrease" Effect (Self & All Close Ranged Weapon Allies)
Summer Combo
Symbology Cast Time Reduced by 30% & AP Consumption -10%(Self)
Rush Combo
Additional Effect
Power
Max Hit Count
Lightning-Fast Service (Lightning Element)
Heal 50% of Max HP & INT +40% (All Allies 20 seconds)
INT x 3,000%
4
Skills
AP Cost
Power
Max Hit Count
Thunder Wave (Lightning Element)
35
INT x 580%
4
Lightning Wave (Lightning Element)
20
INT x 200%
10
Faerie Light Wave
30
INT x 120%
1
Thunder Strike (Lightning Element)
47
INT x 770%
10
LB 10 Level 70 Stats
HP
13,965
ATK
1,747
INT
3,010
DEF
1,327
HIT
1,050
GRD
1,148
Youth Sophia

Information
Daggers - Gacha Permanent - ACE 5☆ to 6☆
Talents
Yearning Feelings
Damage +40% (All Allies) / Single Target Damage +15% when distance between Target is Long (All Allies)
Earnest Learning of Love
At 30% HP or higher, has a 90% chance to survive a fatal blow (All Long Range Weapon Allies) / Ease of Stun +15 (All Long-Ranged Weapon Allies)
The Power to Connect
AP Recovery from Normal Attack +100% when distance to Target is Short (All Allies) / AP Consumption -15% (Self)
Unconcealable Jealousy
ATK+15% (Self)
Rush Combo
Additional Effect
Power
Max Hit Count
Blood Scylla
Recover 30% HP (All Allies) / ATK・INT Damage +25% (All Allies 20 seconds)
ATK x 3,500%
5
Skills
AP Cost
Power
Max Hit Count
Flying Guillotine
15
ATK x 170%
2
Sylvan Shot
13
ATK x 150%
8
Unholy Terror
29
ATK x 310%
5
Gremlin Lair (Earth Element)
31
ATK x 420%
10
LB 10 Level 70 Stats
HP
15,645
ATK
2,868
INT
1,563
DEF
1,549
HIT
1,253
GRD
924
Maid Sophia

Information
Guns - Gacha Limited - ACE 5☆ to 6☆
Talents
Cat Eared Maid
Damage +40% (All Allies) / Damage +50%, 60% at 100 and 200 hitcount (All Allies)
Cat Counting Song
Reduce AP Usage by 10%, 20% at 50 and 100 hitcount when far from enemy (All Long Ranged Weapon Allies)
Cat's Loud Chorus
Rush Combo Damage +40%, when hitcount is 250 or above (Self)
Connection・Cat
Reduce AP Usage for evasions by 50% (All Allies) / Evasion Distance and Speed +100% (Self)
Rush Combo
Additional Effect
Power
Max Hit Count
Cradle Song・Beat
Critical Chance +30%, Reduce AP Usage by 40% (Self 20 seconds)
ATK x 4,000%
6
Skills
AP Cost
Power
Max Hit Count
Skyline Shooting
16
ATK x 320%
3
Stardust Aim
15
ATK x 290%
3
Hard Knocker
16
ATK x 310%
4
Sweep Trigger
32
ATK x 890%
11
LB 10 Level 70 Stats
HP
14,070
ATK
2,494
INT
1,575
DEF
1,720
HIT
1,253
GRD
931
SRF Sophia

Information
Bow - Gacha Limited - ACE 5☆ to 6☆
Talents
Motivation for Research
DMG +35%, 50% and 65% at 100 and 250 hitcount (All Allies)
Longing to Catch-up
Hitcount timer decay +2s (All Allies) / AP Recovery Speed +100%, Battleskills deals an extra hit worth 5% of damage dealt (Self)
This Year's Goals
Abnormal Status Immunity for 180 seconds, Enables Air Dodge, Rush Damage +60%, when hitcount is 400 or above (Self)
Change and Stability
ATK +20%, AP +20 (Self)
Rush Combo
Additional Effect
Power
Max Hit Count
Double Crescent Wing
ATK +80%, AP Consumption -30% (Self/20sec)
ATK x 5,000%
12
Skills
AP Cost
Power
Max Hit Count
Savage Sparrow
16
ATK x 160%
9
Crescent Wing
29
ATK x 300%
2
Chaotic Blossoms
50
ATK x 1,480%
11
Crimson Squall
42
ATK x 1,240
9
LB 10 Level 70 Stats
HP
14,520
ATK
3,094
INT
1,671
DEF
1,790
HIT
1,320
GRD
988
Singing Star Sophia

Information
Launcher - Gacha Limited - ACE 5☆ to 6☆
Talents
LOVE CONNECTION
ATK & INT Damage +20%, ATK & INT Damage +45% when not behind the target (All Allies)
Caretaker of the cats
AP -15% when not behind the target, AP -30% when 100% HP and not behind the target (All Allies)
Orange Connection
Critical chance +50% when 100% HP, Critical damage +50% (Self), Damage Taken -100% when dodging (Self/0.5 second)
Feelings that Connect
ATK +20%, HIT +10%
Rush Combo
Additional Effect
Power
Max Hit Count
Nyanderful Stage
ATK +80%, HP Recovery 10% every 3 seconds (Self/20 seconds)
ATK x 5,000%
5
Skills
AP Cost
Power
Max Hit Count
Black Hole Sphere
32
ATK x 340%
10
Shocking Scratch
18
ATK x 170%
3
Quicksilver Bullet
18
ATK x 170%
5
Nyastice Savior
30
ATK x 710%
6
LB 10 Level 70 Stats
HP
14,175
ATK
2,993
INT
1,563
DEF
1,720
HIT
1,378
GRD
931
Family Tree
Gallery
Till the End of Time
Material Trader
Anamnesis