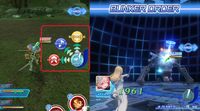 The Order System (オーダーシステム, Ōdā Shisutemu?) is a battle feature in Star Ocean: Anamnesis which allows players to issue a party-wide beneficial effect. The Order Gauge fills when AP is consumed by using battle skills (that is, special arts and symbology), and it takes 1350 AP to fill. It can hold up to three stocks at once. Playes can issue an order by pressing the Order Gauge, sliding to the desired order, and releasing. Only one order may be active at a time and, in Multiplayer, only the room host can issue orders, even when their character has been incapacitated. Orders end immediately if used during stage transitions.
Using orders earns the player three stamps for using each Oder for the first time as well as several titles depending on the number of times used thereafter.
There are three Orders available:
Invincible Order (

インビンシブルオーダー

?) lasts for 5 seconds and makes the party immune to damage while active. However, it doesn't immunize to other effects of being hit such as status effects, flinching, launching, etc.
Bunker Order (

バンカーオーダー

?), which lasts 10 seconds, sets a time bomb on the target that increases in power relative to the hit counter.
Heat UP Order (

ヒートアップオーダー

?), which also has 10-second duration, increases Rush Combo Bonus while active, with a higher damage bonus the longer the player waits to activate Rush Mode.
Gallery